Good morning! It's been a while since I've posted on my blog- but what better time that Christmas time to jump back into it? Over the weekend, I made some Christmas 'art' from a gift bag and a frame!
I saw this gift bag at Target and thought it was too cute and went perfectly with my 'rustic chic' Christmas decor.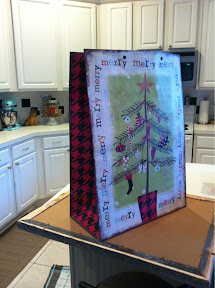 I took the bag to Hobby Lobby (or Hob Lob) as my BFF , Taylor calls it, and picked out a frame. I couldn't find an exact fit for the bag, but I didn't want to spend extra $$ to get it custom framed. The frame is a couple inches too wide for the bag, but you can't even tell with the cardboard behind it. Plus, the frame was 50% off!
First, I removed the handles from the bag, then folded it super flat.
I guess you could cut out the front of the bag, but it fit in the frame just fine without, so why fix what ain't broke? (I know that's not proper grammar, but it gets my point across better ;))
So, put the bag in the frame, put the back on the frame and voila!
Now, if you want to hang it on the wall, attach some hanging hardware on the back...
And there you have it! A piece of Christmas 'art' that cost a total of $15!
I can change the bag or 'art' as my decor changes over the years!
Hope everyone has a great Monday! Here's a picture of my little Owen passed out in his carseat after a successful Thanksgiving dinner!
Xoxo Haley